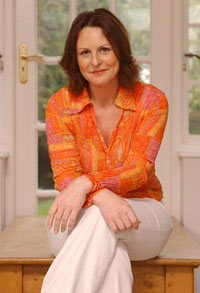 "I got out of my bra and knickers quicker than Houdini, and slid into the bath. I exhaled with relief at this masterstroke. After all, the water gave my breasts some buoyancy, sending them bobbing to the surface with all the lift of a teenagers."
Call Me Elizabeth - pg 101.
Dawn Annandale
Wife, Mother, Escort - Biography
Dawn Annandale spent her childhood in what outwardly was a smart, happy family living in the best street in town, but it was not a happy childhood. Dawn's father never hit her mother so far as she was aware, but verbally he could be cruel and cutting in a way that would be viewed as emotionally abusive today. When Dawn was in her early teens, her father, returning from a six month trip abroad, started to sexually abuse her and this would continue until his death from suicide six years later.

During all the time of this abuse, and with no one to share her secret, Dawn took comfort in a small music box, and looked for any excuse to stay away from home. Her one hope for herself was that she would soon grow up so that she could move beyond her father's reach. She swore that if one day she had children, they would not suffer as she had. In many ways, this pledge became the driving force for what was to happen to her later in life.

She left home as soon as she was able, married very early and before long had two babies. Dawn didn't take much interest in her husband's business, but as interest rates rocketed his business folded, and he abandoned Dawn, leaving her holding two babies and penniless. She handed the keys of her house to the bank and set to work to bring up her two children as best she could. Dawn met Paul through her work. He was six foot, handsome with dark hair and Dawn thought that at last she had met someone who was right for her and for her children. She very soon fell in love.

Married to Paul and four children later things were on a downward path. Dawn had honoured her pledge: the children were at private school, they all wore clean new uniforms and took advantage of all the extra-curricular activities. Dawn was working, but Paul, it emerged, had very little ambition and the cycle of debt that had destroyed her first marriage was on her again. Bills were shoved unopened in the kitchen drawer and Dawn got by bouncing cheques and using credit cards. One day, bailiffs appeared on her doorstep. She was about to lose the house and everything she had fought so hard to gain.

In sheer desperation she answered an advertisement for 'escort' and was asked at interview 'You do know you have to fuck them?' Over a period of three years, under the name Elizabeth, servicing as many as six clients in some nights Dawn paid off the family's debts, put the children through private school and started to save some money. During all of this time, she was living a double life, a perfect mother, bastion of the PTA and with a husband who believed she was working nights as a secretary.

'Call me Elizabeth' is Dawn's incredible account of her experiences. It addresses a host of issues in moving personal detail and touches on child abuse and incest, debt and debauchery. Most of all, it deals with an extraordinary woman's determination to do right by her children and the steps she is forced to take to realise her goal.